The Cognac, a luxury and terroir product - Day Tour
Cognac is a luxury product elaborated in a craft manner. Your guide, a certified cognac expert, let you meet a craft cognac distiller and products of his family. Then, on the luxury side, visit a famous house of Cognac (Martell or Rémy Martin) before walking around the town of Cognac.
Ideal tour with an expert to discover the world of Cognac away from the beaten track
Certainty to meet passionate artisans wine-growers and distillers
Ideal tour to know about the production network with craft distillers and famous trading houses
Compris

Visit of an artisan distillery ending by a tasting, visit of a famous trading house (Martell, Rémy Martin) ending by a tasting, Visit of the town of Cognac. English speaking local guide / driver

Non compris

Lunch (a local restaurant whose most of patrons are French is suggested by the guide)

Durée
10 Heures
À prendre avec soi

Dressing code : smart & casual

Les participants
The tour takes place for a party from 2 to 8 people
Catégories
Dégustation de vins, Vin & bière, Dégustation de vins in Bordeaux, Dégustation de vins in Aquitaine-Limousin-Poitou-Charentes
Langues
Anglais, Francais
horaires d'ouverture
01/04/2019 – 31/10/2019
Ve 09:00 - 19:00

Region
Bordeaux, Aquitaine-Limousin-Poitou-Charentes
Prérequis

Any allergy or diet has to be indicated before departure to help the guide in the proposal of the restaurant.

Travellers below the age of 18 are not allowed to participate in the tastings.

Informations importantes

Drink in moderation. Excessive alcohol consumption can lead to serious health problems.

PLEASE NOTE THAT THE EXCURSION DEPARTS WITH A MINIMUM OF 2 PASSENGERS
Lieu de l'événement
Tourism Office of Bordeaux
Tourism Office, Cours du 30 Juillet, Bordeaux, France
Offert par
Cognac Tasting Tour
33000 - Bordeaux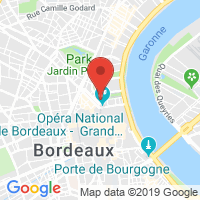 2 Évaluations
Cognac Experience
I visited 3 destilaries, 2 small ones and Martell. It was a very good experience because we can see the vinyards and how thw wine is made, and link it to the destilary, how the cognac gets older.
de JOAO GABRIEL à 14/08/2019
Cognac tour
Highly recommendable!
I had a great time
de Azu Gil à 01/05/2019
mieux s'informermieux réservermieux voyager
Avis TripAdvisor
28 Mes avis